PRO MOD for MooMoo.io
Auto aim, auto heal, and advanced minimap. Yup, nothing else. Just what you care about. All the junk is removed like before, with a new UI!


Here's a complete list of everything this mod does:
-auto aim and auto heal (healing sometimes works without cookie)
-advanced minimap (shows the desert, the arctic, and the river)
-removes the disgusting crud from the home page. (banners, ads, all of it)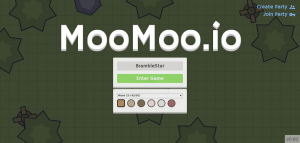 In other words, playing with this mod makes you amazing at fighting without effort. You can also see where your team members are with greater accuracy. You don't have to worry about healing, the mod does the rest.
The minimap script is from a now deletd script by Taner Acun. If you think I stole this script from yours without credit, this is false!
===UPDATES===
v1.7- Updates to the autoaim/heal scripts
How to install user scripts?